Drupal HackCamp 2018 on security, Drupal and GDPR
Drupal HackCamp 2018 on security, Drupal and GDPR
This June, we'll be in Bucharest for Drupal HackCamp 2018. From the 8th to 10th of June, we'll be at the first Drupal Camp focused on Security, Privacy, GDPR, and Authentication.
Get your tickets and join us!
At Drupal HackCamp you can:
Learn how to prevent cyber-attacks in Drupal
Grasp the latest discoveries in data protection in Drupal
Secure integration between Drupal and NodeJS applications
Understand more about client's privacy
Connect with security professionals around the world
Small hint on the professionals part. Drupal HackCamp's lineup is quite amazing, and we're not saying that just because some of our colleagues are speakers. The event features some 20+ international speakers, with keynote speakers such as Preston So (Director of Research and Innovation at Acquia), Jess or XJM as she is better known in the community (Code and Community Strategist at Acquia), Jasper Mattsson (Discoverer of Drupal core Highly-critical Remote Code Execution).
Cool, right?
Top
default
Three of our colleagues have been accepted as speakers at Drupal HackCamp.  They are defeating their fear of public speaking with three amazing speeches:
Adrian (General Manager at Softescu) is presenting ways of implementing ISO27001 for Drupal Agencies
Ionut (CTO at Softescu) tells us the story of 10 Years of Drupal. How did we do in terms of Security?
Madalina (Senior Frontend Developer at Softescu) will show you why FrontEnd Security is a Thing
Some of them are already familiar with sessions at camps and training sessions, but for others, this is something new. For all of them, and for all our friends from the community, we will be there giving all our help and encouragement.
SECURITY, PRIVACY, AUTHENTICATION, AND GDPR AT DRUPAL HACKCAMP
Drupal HackCamp 2018 is a tech conference and learning event to benefit developers, DevOps, marketers, security engineers, and end-users interested in the fields of web development and security with Drupal. A hot topic in 2018, the GDPR will be widely addressed in a series of speeches. This is an opportunity for everyone interested in data protection regulation, so marketers, get your tickets while they're hot!
The event also features a Guided Tour of Bucharest included in the price of a ticket. Visit the most vibrant city in Eastern Europe! Talking about an event that features something for each and everyone.
All the sessions are in English, so you should have a basic level of English. For more details and tickets, check out the official website: drupalhackcamp.org
Hope to see you all in Bucharest this June!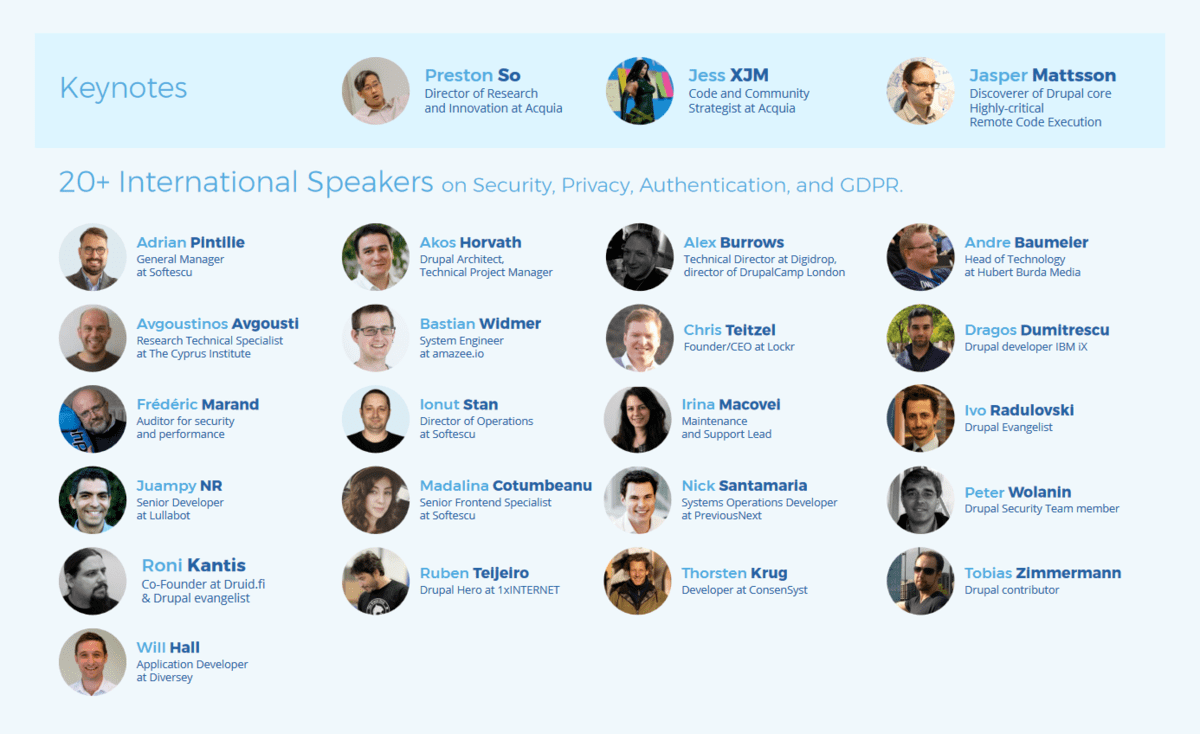 Top